This is not as awesome as the cauliflower pizza crust.  I'm just trying to manage expectations.  But it IS quick, easy and healthy.
I don't like following recipes 80% of the time.  If it calls for a recipe, there's a 90% chance I won't make it on a weekday.  I just don't like making recipes after getting home from work or the gym.  I want something easy.
We (and by we, I mean me…or I) do a lot of make-ahead food.  I've been known to make 2-3 meals on Sunday so I don't have to cook the rest of the week.  It's great and a huge time saver.  Batch processing, as Nick likes to call it.
One of our go-to, make-ahead items is hamburger patties.  I'm going to tell you what I mix with the meat, but you can really do whatever you want.  It's a "recipe" but I don't follow directions.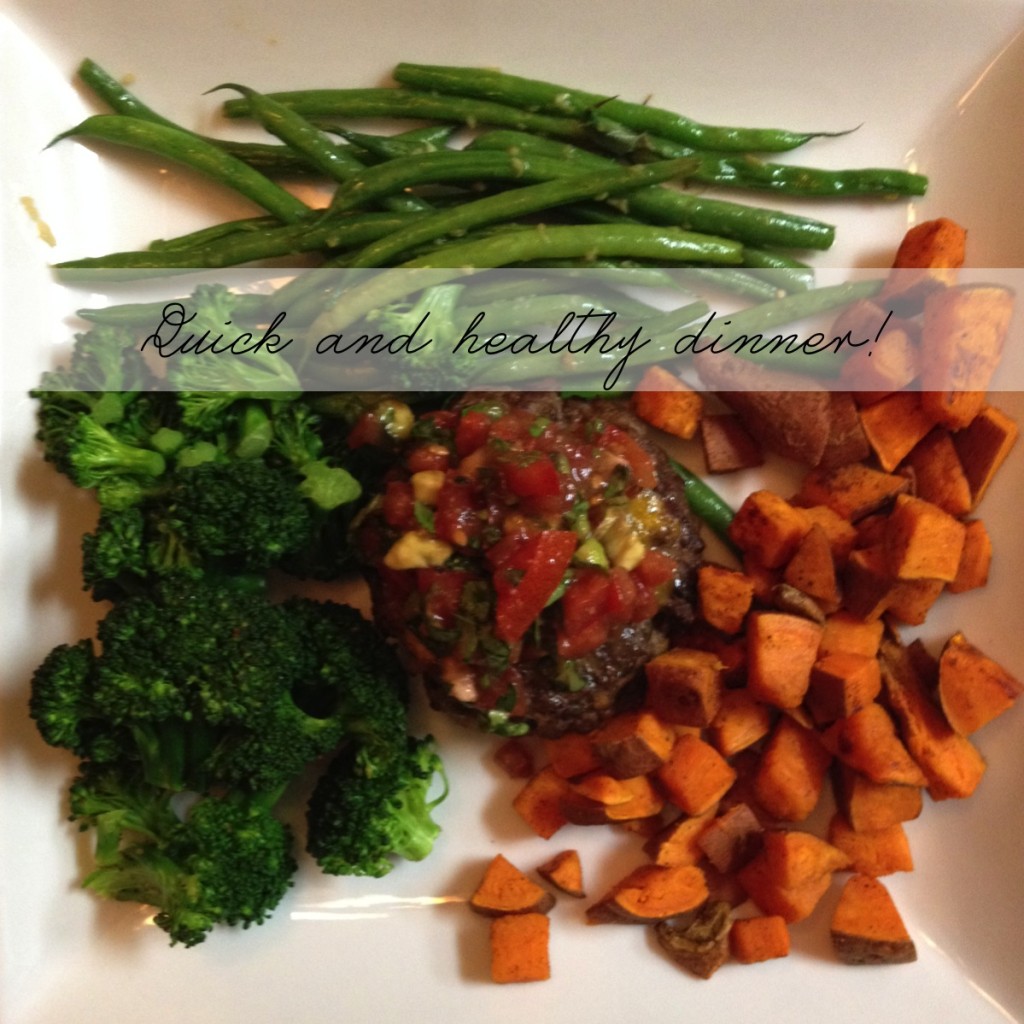 Hamburger Patties
1.3lbs of organic ground beef (costco sells a 3 pack of ground beef, and it happens to be 1.3lbs)
~1/2 c of pre-made lentils (we get them from TJs, just pour some in, it's usually close to 1/2c)
~1/2c chopped mushrooms
~1/2c chopped onions
1-2 garlic cloves, crushed
Saute the mushrooms and onions until you get some liquid out, then add it to the beef along with the lentils and garlic.  Salt and pepper to taste.  I can usually get 6 patties out of this.  Then BBQ all of them up!  Easy peasy!  That usually lasts us 2 dinners and 2 lunches.  But seriously, just mix something in with the meat.  Something with fiber.  If you add some teriyaki sauce or a little worcestershire, it's also tasty!
And here's the rest of what we ate!
Green Beans
1 handful of french green beans per person (they sell a large bag at costco)
1 clove of crushed garlic per handful
Olive oil
Salt
Put the garlic and olive oil in a pan until things get a little warm.  Add the beans.  Add the salt.  Cook until they are your preferred amount of softness.  I like them crunchy.  I add a few tsp of water to help the process along.
Broccoli
Put broccoli into a microwavable dish.  Microwave for 2 minutes.  Sprinkle with salt and lemon juice – sometimes I add parmesan depending on how I feel.  This is my least favorite item on the plate – it's still good, for broccoli.  So if you're going to eliminate one, it should be this.
Sweet Potatoes

1 large sweet potato
Garlic Powder
Cumin
Chili Powder
Cinnamon
Salt
Rinse the sweet potato and poke some holes in it with a fork.  Microwave around 4 minutes.  Dice it.  Add some olive oil to a pan and add the diced potatoes.  Add approximately equal parts garlic powder, cumin, chili powder, cinnamon, and salt.  Just a little of each – about the amount you'd use to "salt" your food.  Then toss until warm and a little brown.  Spice combo courtesy of @eating_whole!
That's it.  Happy Friday!