We had a REALLY busy weekend!  So busy I didn't know where to start for the Monday morning post.  I know, dilemma.  First world problems.
I decided I'd start with our Sunday afternoon activity and see where things go from here.
Our friend, Jessica, organized an outing to Ruby Hills Winery in Livermore.  Livermore is the poor man's Napa.  Tasting are free to $10.  With the majority in the $5 range.  Perfect for people who still buy $2 bottles of wine (although we've recently upgraded to the Whole Foods stuff – way better than 2 buck chuck).
We took the Mello Cielo Vineyard Experience.  What does this experience entail you might ask?  Well, it starts out with a ride on a sweet little renovated school bus.  And yes, those would be wine barrel seats.  And they swivel.  A-Mazing.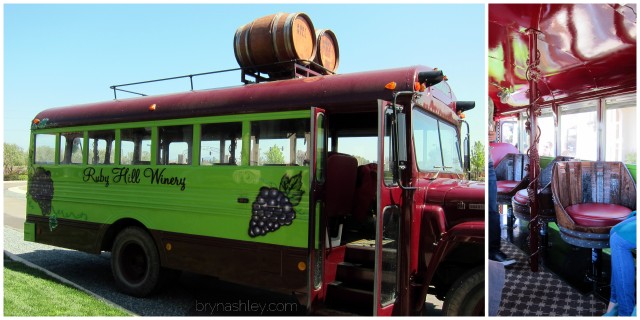 Our lovely host for the day, Mark, took us on a short tour of the vineyards (most of the grounds were not drivable due to the rain earlier in the week, so we got the abbreviated version).
We learned about training vines, watering vines, picking grapes etc…..
And he poured some sparkling wine while he talked.
Then it was off to the production facility where there were barrel tastings.  I've never been fond of the barrel stuff.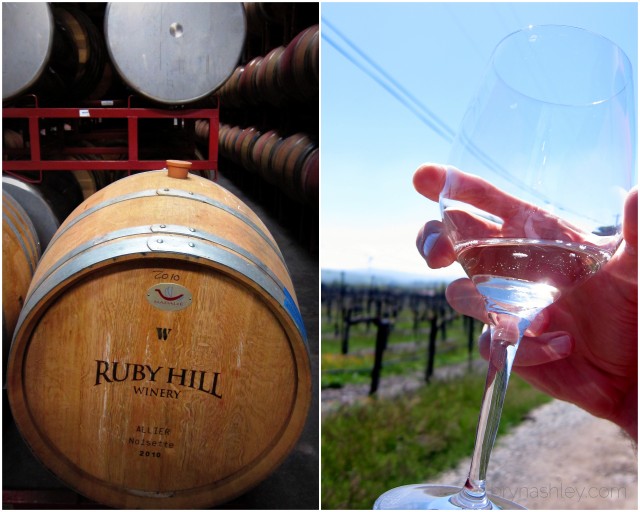 We also learned that they put cheap vodka in spray bottles and use it to keep things sterile.  Maybe we should do the same.
Then it was off to the "tower" for more tastings and wine pairings.  Mark kept referring to a "tower." Technically, it towered above the rest of the buildings since the tower was 2 stories and everything else was only 1.  The tower was setup with a large square table and chairs, and they paired the wines with different meats and cheeses.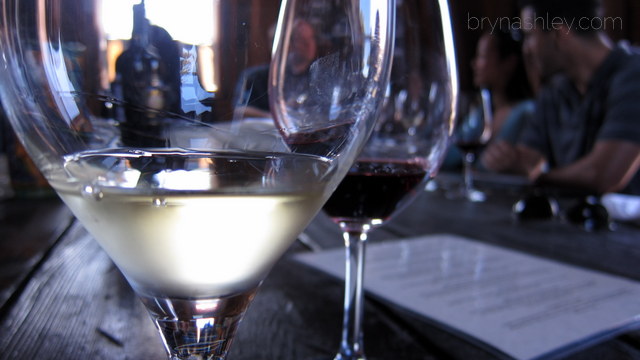 Then we returned to the tasting room where we were met with chocolate cups filled with port.  Genius!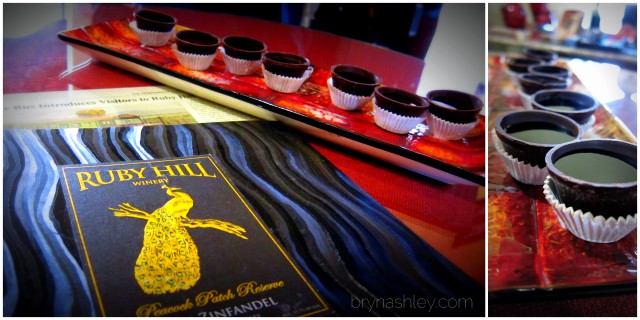 Once the tour is over, you're invited to taste anything else in the tasting room.  One of our friends on the tour decided he liked the Ruby Hills wine sooo much, he'd buy 5 liters of it.
In 1 bottle.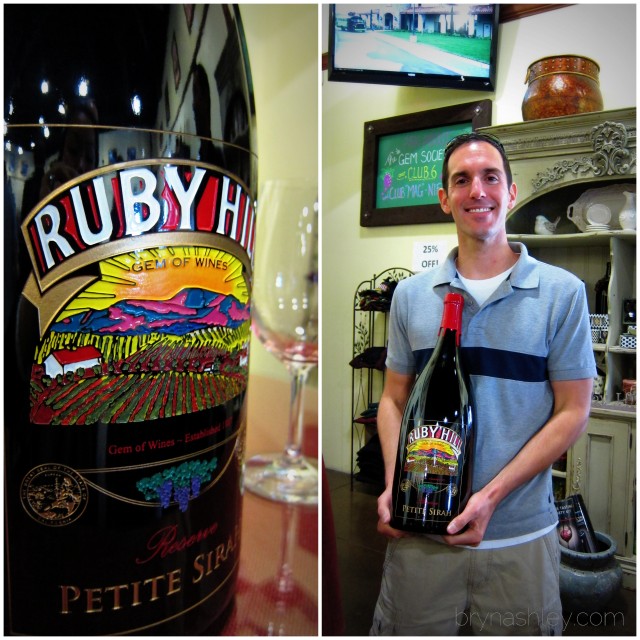 The glass is actually etched and you can get refills of your bottle for a significant discount.  How green!
The tour costs $25 per person and you need a minimum of 8 people to go on the tour, but I'd recommend this.  Especially when the tasting fee is $10 – for $15 more you get a fun experience and even a little snack!