We went to Portland to attend the World Domination Summit.
Your mind just went 1 of 2 ways – Pinky and the Brain or 50 Shades of Grey.  Right?
The World Domination Summit has nothing to do with either of those 2 things (thankfully).  The best way to describe it?  A ton of people who want to "live a remarkable life in a conventional world."  It was super awesome and we both had a great time.  It was way more touchy-feely than I'm use to, but that's ok.  Then again, when all of my conferences consist of engineers, ANYTHING would be a little more touchy-feely.
Over the weekend, I kept trying to think of what I would blog about.  What was the best part or what sort of tid bits of information I could impart on my massive blog audience (and by massive I mean about 50 people).  Because I'm in a list-making mood, here are my top 3 moments of awesome from WDS 2013.
3.  Learning about rejection therapy from Jia Jiang.  There's nothing fancy about his blog, but he's got an amazing message.  The reader's digest version is that regret is much worse than rejection and that people may actually surprise you.  Here's his talk, summed up on 2 beautifully sketched pages (credit to Mike Roh of Roh design who made these – no idea how he does it, kinda like magic.  Apparently he does this live.  His memory must be amazing!  The rest of his sketches can be found on his flickr site)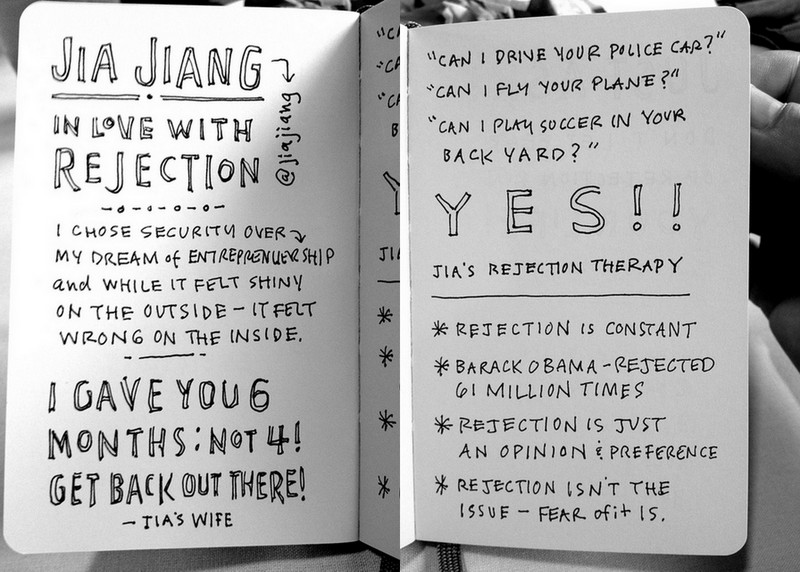 2.  Donald Miller, best-selling author, had a great quote that we should all try to live by a bit more, "We are not our failures. We are not our successes."  Easier said than done, but always good to repeat.
This was another fave.  Feel the fear and do it anyways!
1.  This was probably one of my favorite moments and had nothing to do with the formal program.  Nick and I were walking down the street and I recognized a girl waiting for the bus.  It took me a moment to place her before I realized she writes a blog that I follow, C'est Christine.  I stopped her, and awkwardly asked if she was Christine – she was seriously as sweet as she could be – and then Nick and I kept walking.  Not sure if it was Nick or I who thought to check twitter, but I did and saw the following tweet:
YOU GUYS. Someone just recognized me on the street and she's a huge fan of my blog = Day.Made.

— Christine Amorose (@camorose) July 8, 2013
So I responded….I'm not an avid tweeter for anyone wondering.
@camorose that would be me glad to meet you for a brief second – such a small world!

— Bryn Miyahara (@brynashley) July 8, 2013
And her response.
@brynashley Thank you SO much for saying hi! I've already texted my boyfriend and parents–day made, seriously

— Christine Amorose (@camorose) July 8, 2013
Now seriously.  How awesome is that?! I was excited to meet someone I'd only ever known online and it happened to make her day (even thought it was totally by accident).  I could have just walked by (thanks to Jia Jiang, I didn't) and it turned out great for both of us.  And by the way, it feels awesome to make someones day.
WDS was awesome.  Nicest group of 2900 people I've ever been with!